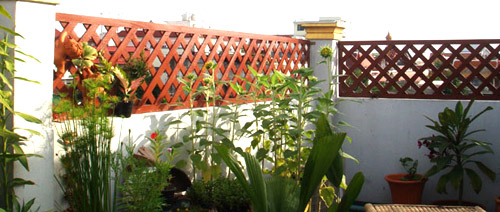 Building Your Own Rooftop Garden
by Kate Blair
For rooftop gardening, there is no project too small. A rooftop garden can be designed to suit your needs, whether your intent is merely to plant a few containers, or to combine the efforts of your neighbors in order to create a larger-scale, community garden. One thing to keep in mind, though, is that depending on the scale of your project, outside help may become necessary. A large garden can be quite an undertaking, and without proper execution, the weight of the necessary materials could compromise the structure of your roof. To be safe, hiring a contractor might be the way to go. In addition, an expert might be able provide tips for enhancing the visual impact of a garden, even one that is container-based.
Rooftop gardens can be divided into two basic types: the container garden, and the green roof. A container garden can range from simple to lushly landscaped, but all plants are grown in containers of various sorts, which can range from clay pots to old take out containers. For a green roof, plants, soil and drainage systems are applied directly to the roofing surface. The allure of a true green roof is more its environmental impact than its recreational possibilities. As it is quite a large undertaking, the help of a contractor would be advisable.
A simple container garden will fit almost any budget or aesthetic. Conveniently, you might already have some of the materials you need lying around the house. Tupperware and jars are quite satisfactory for growing a variety of plants. While the needs of potted plants differ slightly from those in the ground, a rooftop garden still requires a great deal of attention. For example, a rooftop garden will be less susceptible to pests and weeds, but containers are more sensitive to heat from the sun, especially in urban areas, which can often be heat traps. For this reason, plants will require more watering. A good drainage system is imperative to the survival of plants, as over-saturated soil will lead to suffocation. In addition, potting soil is a necessity, even if you happen to have some of the real stuff lying around. Potting soil, with its high concentration of peat moss, is perfect for container gardening. While it is strong enough to anchor roots, it will not compact, remaining loose for drainage. Potting soil also holds nutrients well, which is helpful, since smaller pots tend to leach nutrients faster. Finally, it is important to do some research on your plants before potting them, as some will require more room than others.
If your plan is to implement a green roof, the help of a home contractor will probably be necessary. Not all roofs can support the weight of a garden, as it requires the installation of several layers. A successful green roof requires about four different layers. The first layer, applied directly to the rooftop, protects against leakage, while the next provides drainage for the garden. Next, a mat is placed on top of the drainage system to keep the soil in place. The final layer will consist of the soil and the plants themselves. Because of its sheer weight, a garden of this type will function best on a reinforced concrete or steel-frame structure. The enormity of the project is worth it, because the environmental benefits will be noticeable.
Any type of rooftop garden will require maintenance, but the social and environmental benefits of urban green spaces are truly worth the effort.
save on del.icio.us
Share on Facebook