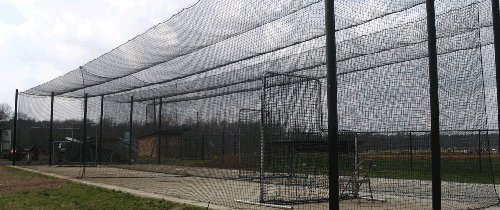 Installing a Backyard Batting Cage
So, you have a baseball fanatic in the house. Whether you are a precocious young person aspiring to the big leagues, or simply an enthusiast with a day job, a batting cage is a unique and fun addition to the backyard. A batting cage simply provides a contained environment that makes flyaway balls easier to retrieve. If you have players practicing in your backyard, you might understand the benefits of containing balls, which, aside from being difficult to track down, can cause a lot of damage. While this might seem like a daunting project, it can be accomplished relatively easily, especially if you enlist the help of a contractor.
Depending on your resources, you might simply want to buy a batting cage from a sporting goods store. These are easy to assemble, and can often be relatively cheap. The downside to this decision is that you will not have the benefit of a design that is custom-made to fit your space. If you want a batting cage that is truly high quality, a custom job with the help of a contractor might be the way to go.
Location
The first step is to decide where the batting cage will go. A large, flat area works best. If you can manage it, a length of at least 40 feet is ideal for quality batting practice. Of course, the size of your space will dictate the dimensions of your batting cage.
Poles
Next, you need to choose a material for the poles that will form the body of your cage. PVC pipe is a popular and easy choice of material for this project. Made from plastic and vinyl, PVC is durable. Most importantly, it will not rust or rot when exposed to the elements. If your cage is going to be around 40 feet long, you will need roughly 3 posts on each side, making 6 in total. They should be spaced with 12-14 feet between them. The height should ideally stand 10 to 12 feet above the ground.
Cementing
While you can simply choose to bury your posts in the ground, cementing them will ensure that they stay put. This will bring you closer to the quality of a commercial batting cage, as well. If you wish the cage to be sturdy, but removable, installing groundsleeves will allow for the batting cage to be disassembled. This can be slightly more complicated, and may require the help of a contractor to ensure correct installation.
Netting
Buying netting specifically designed for a batting cage can be somewhat expensive. However, you can often find cheaper nets on Ebay, or other online marketplaces. Other types of netting, such as fish netting can also be an adequate substitute for the real thing. When attaching the netting, it is important to make sure that it hangs somewhat loosely. This will keep it from wearing out over time.
Play ball
The final step is to get swinging. Whether or not you spring for a pitching machine is up to you. A friend with a mean fastball can be a cheap substitution for a machine. Regardless, for quality batting practice, you need go no further than your own backyard.
For more tips on building a backyard batting cage or other sporting set-up for your family, you can set up a free on-site project consultation with a licensed contractor in your area. Contact Signature Contractors today to get started.
save on del.icio.us
Share on Facebook