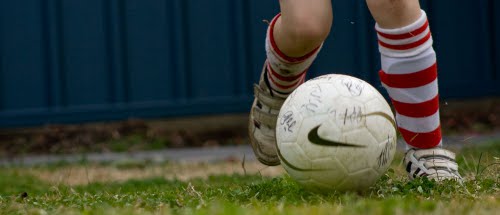 Building a Backyard Soccer Field
Soccer is among the most popular of youth sports today. Even if no one in the family is in a league, there is nothing like a game of pick up soccer to bring friends and family together. Best of all, a backyard soccer field will not disrupt the space too much. It's there when you want to play, and it doesn't really interfere with your barbeque plans, either.
The Field
For your backyard, it might be unrealistic to expect to fit a full, regulation sized playing field, which is about 100 yards long and 60 yards wide. The amount of space that you have will end up dictating the size of the field. What you can do is make the proportions accurate. Here are some other numbers to keep in mind: The goalie box is generally 20 yards long and 6 yards wide, while the surrounding penalty box is 44 yards wide and 18 yards long. Finally, at the center of the field is a circle of 10 yards where kickoff begins. With some quick math, you can determine how to best fit all of the proper field elements into the field size you have pre-determined. For the more serious minded soccer mom or dad, you can also bring in the help of a local landscaping contractor to work out the dimensions and clear backyard space accordingly.
After determining which space you will designate for the field, you or your contractor can remove any objects, such as large rocks, shrubs, or trees, that may be impeding the field of play. This will make for a much safer playing experience. Keeping the grass neatly mowed will also enhance the aesthetic appeal and safety of your field. Typically, the grass on a soccer field is between an inch and an inch and a half high.
The Goals
If you are a minimalist, a couple of goals is all that you really need to get started. While a couple of cones, or another type of marker might suffice, a real goal will help to make the experience of playing feel more authentic. A goal is, after all, more than width. If you are lacking the top dimension, it can be difficult to determine when a true point has been scored. Aside from reducing the bickering that might ensue over an unclear kick, a real goal will also reduce the amount of ball chasing required of you.
Make Your Own Soccer Goal
You can purchase goals online or at a sporting goods store. But if you want to keep the goals in proportion with the rest of your field, it might be a better idea to simply build your own. Durable PVC pipe works well as a base, because it will not rust or rot when exposed to the elements. This lightweight material is also easy to handle, and you can cut it down to any size you desire. Once the pipes have been cut, it is a good idea to sand the sharp edges down. Connect the sections of pipe with some elbow pieces. You can choose to cement the pieces together, or leave them unglued, so that you may unassembled them later. Then, all you need to do is find some netting and attach it using string or zip ties.
Play a Game
Once all of the elements of your field are set, the next step is to assemble your teams and commence play. All you really need is a soccer ball and some sneakers, but keep in mind that shin guards and cleats will make for a safer game.
Want to get a free on-site estimate on a backyard soccer field project from a licensed landscaping professional? Contact Signature Contractors today and will arrange your consultation at a time to your convenience!
--Kate Blair
save on del.icio.us
Share on Facebook